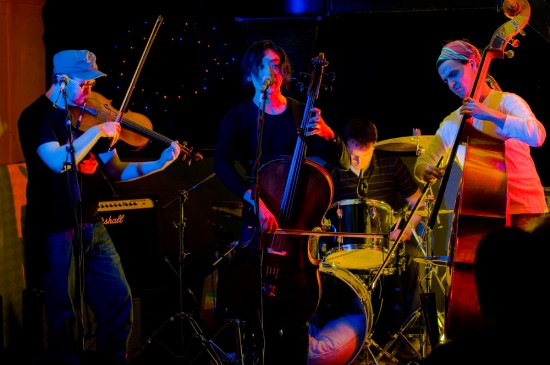 Lipsync for a Lullaby is a band formed in Edinburgh, a string quintet (quartet + drums). Led by composer/cellist Atzi, supported by friends he's met during the years when he played solo shows in venues around the Scottish capital. Members are: Atzi on vocals and Cello, Kate Miguda on Violin, David Townhill on Viola, Balazs Hermann on Contrabass, and Scott Jamieson on the drums. Contemporary it may sound, but punk is at its heart.
Their gigs in Scotland include Kelburn Castle Garden Party (2011, 2012), Knockengorroch Festival(2011), Doune the Rabbithole Festival (2011), Edinburgh Film Festival (2011), Hiddendoor Festival (2009, 2010), among other sell-out headlining acts. While working on their first album, they are currently writing an alternative score for cine-concert featuring pioneer of French new-wave Hiroshima Mon Amour (1959) in association with The French Institute of Scotland. In 2013, they are a part of collaborative concept concert Decagram, while the headlining band saw its original orchestral material premiered during festive August at the Queens Hall in Edinburgh.
Atzi is a unique composer whose works include an original soundtrack for a BAFTA winning film ('The Making of Longbird', 2013), and 'KINO for DH' shown at the Cannes Film Festival, 2011. He has become a prolific figure in Edinburgh arts scene and produced history of performances in music for alternative music, contemporary dance, contemporary classical, and orchestral playing. Lipsync for a Lullaby is his true creative outlet where the haunting strings meets beats. The music, one might say, is solemnly detached from usual trend.
Check out the Sound Explosion music video here.